Smart Infrastructure solutions for sustainable growth – TRACTO-TECHNIK at NO-DIG 2019 in Florence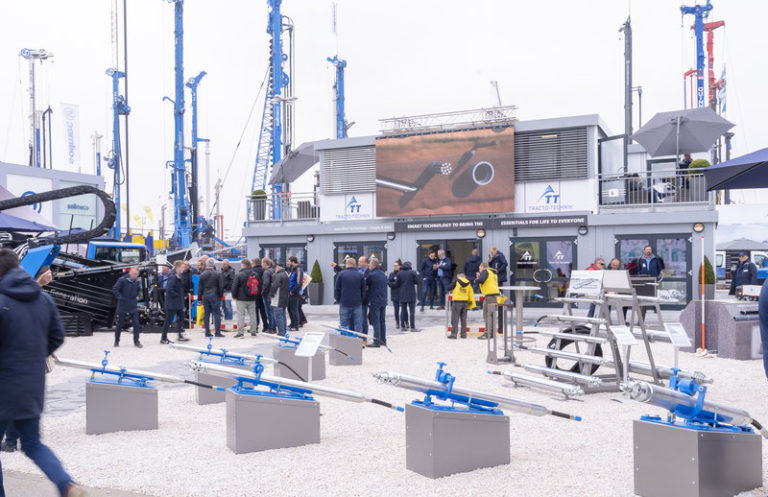 Without a doubt, the International No-Dig conference and exhibition is a key event for the trenchless trade, covering the latest techniques and developments. Its 37th edition in Florence wants to highlight the increasingly strategic role of trenchless technologies as driver for the infrastructural growth of countries. With their comprehensive product range comprising flexible solutions for all areas of pipeline construction, TRACTO-TECHNIK substantially contribute to this objective. At NO-DIG 2019, the German manufacturer will show how to increase productivity and profitability in the construction of the underground infrastructure in a sustainable way.
NODIG solutions sustain infrastructural growth
With a steadily growing world population, increasing urbanization and growing environmental awareness it is obvious that maintenance and development of the underground infrastructure are quite challenging in respect for private utilities and the public sector. These challenges favour the use of trenchless technologies, which offer ecological and cost-effective solutions for a sustainable infrastructural growth. Therefore, it is not only important for the industry to create an awareness of the possibilities of trenchless technology among clients and planners, but also to offer flexible solutions that meet today's requirements. Based on this knowledge and a consequent focus on user requirements, German manufacturer TRACTO-TECHNIK has developed a unique product range for all types of trenchless construction tasks from creating house connections.
Smart trenchless technology for the future
Labelled by the Mole" trademark, which stands for intelligent solutions and uncompromising quality, TRACTO-TECHNIK's product range comprises innovative drilling equipment, digital products and services that make trenchless construction highly efficient and profitable. Among the products recently introduced are new generations of the renowned GRUNDOMAT soil displacement hammers, which are even more reliable and versatile and trend-setting GRUNDODRILL horizontal drilling rigs with matchless features such as remote controlled drilling and rock drilling in all performance classes. Due to their maximum degree of digitisation, these new drilling rigs not only make the complex HDD technology easier to use, but also more productive in the long term. Further smart and flexible trenchless solutions "made in Germany" also meet the markets' demands. These are the GRUNDOPIT mini steerable drilling rigs for installing house connections, the effective GRUNDORAM horizontal rammers for the dynamic installation of steel pipes as well as the GRUNDOCRACK and GRUNDOBURST pipe bursting systems for sustainable pipe renewal and rehabilitation.
TRACTO-TECHNIK expands sales network in Italy
This year's NO-DIG host country is among the prospering markets for trenchless technology. The positive forecasts are due to the Italy's role as a European hub for gas, the government's ambitious digital agenda and huge future investments in the water and sewage sector. Consequently, TRACTO-TECHNIK have expanded their network by appointing a new sales & service partner. As of now, the company TIMECO Srl will contribute to further penetrate the Italian market together with long-term partner VOLTA Macchine.
TIMECO was founded in September 1976 in Milan by Eng. Silvio Schmalzbauer who still runs the company together with his son Dr. Simone Schmalzbauer. The company has been operating in the sector of tunnel construction and ramming for over 40 years, distinguishing itself for its proactivity and competence in sales and service to Italian customers. In order to adapt the business to the market requirements, the management decided to extend the sales portfolio by trenchless technologies in the range up to 800 mm diameter. Due to their profound experience and knowledge of the trade, TIMECO are a perfect partner to market for TRACTO-TECHNIK's smart NODIG systems in Italy and guarantee first-class service.
TRACTO-TECHNIK at 39th NO-DIG International
To learn more about the smart trenchless technology from Germany visit NO-DIG 2019 in Florence from 30th September to 2nd October. The TRACTO-TECHNIK experts and a representative of TIMECO will be present stand D27 + E27 to answer any questions in detail. Conference delegates will also be able to attend two interesting lectures on the intelligent Nodig solutions for various applications.
1.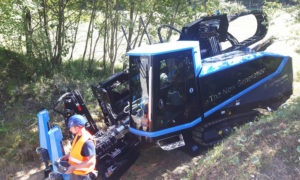 2.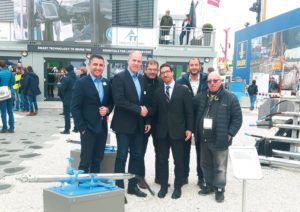 (Foto 1) The GRUNDODRILL rigs of the ACS series are suitable for drilling in all geologies including solid rock, thanks to an intuitive operating concept even completely by remote control.
(Foto 2) Uwe Prinz, CMO of TRACTO-TECHNIK, welcomes TIMECO as a new sales partner during Bauma 2019. He shakes hands with Dr. Simone Schmalzbauer, who is next to his father and company founder Dr. Ing. Silvio Schmalzbauer.