Trenchless Romania Webinar-Impact of COVID-19 crisis on trenchless industry, 10th of September 2020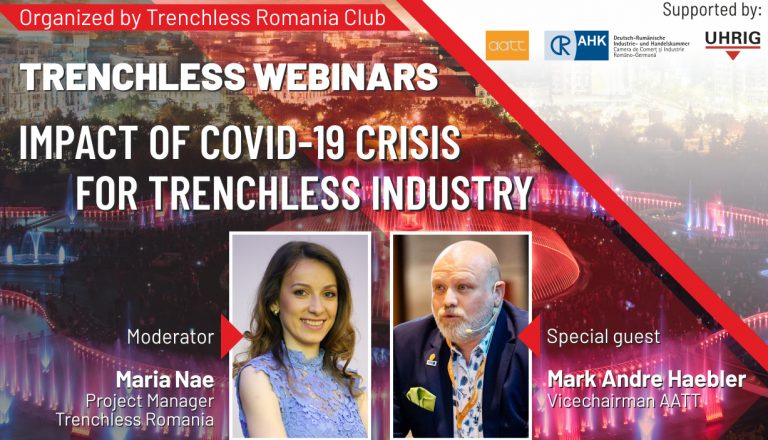 Trenchless Romania Club presents you an exclusive online mentoring programme structured in online webinars with professionals from the trenchless industry that will share their knowledge and business experience.

The goal of the Trenchless Club Webinars is to overcome the space barrier and to keep you posted with everythig that happens in the trenchless world. Within the seminars we will analyse how COVID-19 pandemic is impacting the trenchless technology industry.

The Trenchless Romania Club Webinars aim to bring more technical and entrepreneurial education to entrepreneurs who want to develop their existing business in the trenchless industry. The goal is to support entrepreneurs to acquire the necessary knowledge and the key competencies for growing the business they manage.
Trenchless Romania Webinars – IMPACT OF COVID-19 CRISIS ON TRENCHLESS INDUSTRY  – 10th of September 2020
Special Guest – Mark André Haebler

Mark André Haebler is the Vice-Chairman of the AATT and a member since 2015. Furthermore, he´s an active member of an Austrian education and training program called: "ÖWAV-certified consultant for sewer rehabilitation. " He has been involved in trenchless since 2003 holding management positions with several trenchless suppliers. He is currently responsible for International Sales and Development with Uhrig Kanaltechnik GmbH, Germany, and is a member of the ÖWAV – rules and standards working group and a speaker as a certified consultant for sewer rehabilitation (since 2013).
Mark responded to our main questions providing valuable information about the evolution of the industry during the past 6 months.
How has the pandemic affected your international incoming orders?
Which effects are particularly affecting your business?
What measures are you taking to respond to the crisis?
How do you assess the development of your business as a result of the crisis?
All webinars will be posted on our facebook page https://www.facebook.com/trenchlessromania.
---
Trenchless Romania Club vă prezintă un program exclusiv de mentorat online structurat în seminarii web online cu profesioniști din industria trenchless care își vor împărtăși cunoștințele și experiența de afaceri.
Scopul webinariilor organizate de Trenchless Romania este de a depăși bariera spațială și de a vă ține la curent cu tot ceea ce se întâmplă în industria de no-dig. În cadrul seminariilor vom analiza modul în care pandemia COVID-19 are impact asupra industriei de foraje orizontale.
Webinariile își propun să aducă mai multă educație tehnică și antreprenorială celor care doresc să își dezvolte afacerea existentă în industria trenchless. Scopul este de a sprijini antreprenorii să dobândească cunoștințele necesare și competențele cheie pentru dezvoltarea afacerii pe care o gestionează.
Trenchless Romania Webinar – IMPACTUL CRIZEI COVID-19 PENTRU INDUSTRIA TRENCHLESS – 10 septembrie 2020
Invitat special – Mark André Haebler, Vicepreședinte AATT ( Asociația Austriacă pentru Tehnologii Trenchless)
Mark André Haebler este vicepreședinte al AATT și membru activ al unui program austriac de educație și formare numit: "Consultant certificat ÖWAV pentru reabilitarea canalelor. Mark este implicat în industria trenchless din 2003, deținând funcții de conducere la mai mulți furnizori de tehnologii. În prezent, este responsabil pentru Departamentul de vânzări și dezvoltare internațională cu Uhrig Kanaltechnik GmbH.
Mark a răspuns la întrebările noastre principale oferind informații valoroase despre evoluția industriei trenchless în ultimele 6 luni.
• Cum a afectat pandemia de COVID-19 activitatea companiei?
• Ce consecințe au afectată în mod special afacerea?
• Ce măsuri luați pentru a răspunde crizei?
• Cum apreciați dezvoltarea afacerii ca urmare a crizei?
Toate seminariile web vor fi postate pe pagina noastră de facebook https://www.facebook.com/trenchlessromania.
Trenchless Romania Webinar este sustinut de Uhrig Kanaltechnik GmbH, AATT, ECONET.