All together for the 6th Edition Trenchless Romania Conference & Exhibition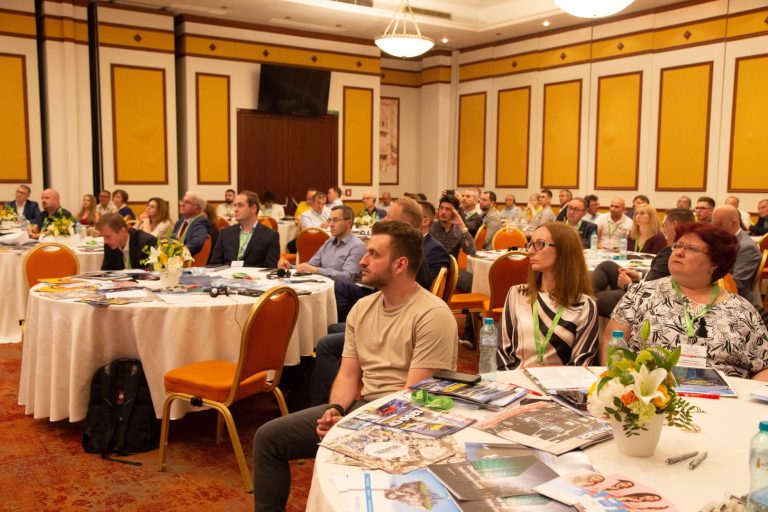 14th of June Bucharest
The 6th Edition of Trenchless Romania Conference & Exhibition took place on the 14th of June at Caro Hotel Bucharest. The event succeeded to combine a full day conference that included technical papers with indoor and outdoor exbibition area, within a dynamic atmosphere that brought together professionals for the trenchless industry in the region.
Trenchless Romania Conference & Exhibition is the only event in Romania supported by ISTT (International Society for Trenchless Technology) and the official opening of this 6th edition was made by Jari Kaukonen – President of ISTT. Welcoming words were also presented by Jens Hölterhoff – Chairman of GSTT (German Society for Trenchless Technology) and we were delighted to have with us Mark André Haebler – Vicechairman AATT and Klaus Beyer – International Director of GSTT, two of our main supporters since the first edition of the event.
Since the first edition in 2016 Romanian Water Association (ARA) is very close to us and supports Trenchless Romania event. Once again ARA was represented during the conference by Ioan Bica, Vice President ARA member of the Board of Directors. Furthermore for this year we had the special visit of Ahmed Lundgren-Bekov, Head of Economic Section for German Embassy in Bucharest and Dr. Ilinca Pandele, Business Consultant of the German-Romanian Chamber of Commerce and Industry (AHK Romania).
During the event Jari Kaukonen, President of ISTT made the official announcement of Trenchless Romania Club affiliation to ISTT. With this affiliation all Trenchless Romania Club members now benefit of ISTT benefits such as: extensive international collaboration and networking, access to annual International No-Dig Conference and numerous conferences and meetings organized by Affiliated Societies/ISTT, free participation to regular ISTT webinars, free downloads of technical papers and reports that were presented at International No-Digs and other relevant sessions etc.
The conference day was structured in two technical pannels with relevant presentations about the latest equipments for the no-dig industry and related activities for water, sewage, gas and optic fiber. Each year we look to have high quality programme that can provide a rich source of information bringing added value for all our participants. Therefore we were extremely glad that in this edition we had as special guest, Roland W. Waniek from IKT (Institute for Underground Infrastructure, Germany) presenting «How testing installed CIPP liners for quality assurance helps sewer network operators protect their scarce money.»
The exhibition had to two areas: the indoor exhibition area with booths for each partner company of the event, and the outdoor exhibition area where where participants could see demonstrations with the equipments. The highlight of the outdoor exhibition was the newest horizontal directional drilling machine TERRA JET DJ 40 presented for the first time in Europe by the local dealer IMOCON.
The event hosted the 6th Edition of TRENCHLESS ROMANIA AWARDS, the ceremony for awarding the projects that use trenchless technologies and products in the trenchless industry. TRENCHLESS ROMANIA AWARDS is also dedicated to the people, the professionals that understand and support the use of trenchless technology.
The winners for TRENCHLESS ROMANIA AWARDS 2022
*New machine
Jet pump system in Slurry MTBMs: XXL drive lengths in small diameters
Herrenknecht AG
*Outstanding contribution for growing trenchless technology awareness
Jari Kaukonen – President ISTT (International Society for Trenchless Technology)
*National Project
No-dig undercrossing of Piata Sudului Passage
APA NOVA București
Partners of the 6th Edition Trenchless Romania Conference & Exhibition:
Initiator – Tracto-Techink GmbH&Co.Kg;
Platinium Partner – Herrenknecht AG;
Gold Partner– Blejkan Construct, Dantec SRL;
Silver Partner – Reline Europe, Imocon;
Conference Partner – TIROLER ROHRE GmbH;
Bronze Partners – Brandenburger Liner, FRANKEN PLASTIK GMBH, RS Technik AG, FUNKE Kunststoffe GmbH-Romania, SAERTEX multiCom GmbH, Diringer & Scheidel Romania SRL;
Coffee Break Partner – IST – Innovative Sewer Technologies
Trenchless Romania Conference & Exhibition 2022 was supported by International Society for Trenchless Technolgy (ISTT), the German Society for Trenchless Technology (GSTT), Austrian Association for Trenchless Technology (AATT) and United Kingdom Society for Trenchless Technology (UKSTT). Together with them partners of the event were also AHK (Romanian-German Chamber of Commerce), ARA (Romanian Water Association), ARACO (Romanian Construction Contractors Association), PSC (Construction Companies Association), and Petroleum Club Romania.