No-Dig Live Digital Sewer Rehab 2020+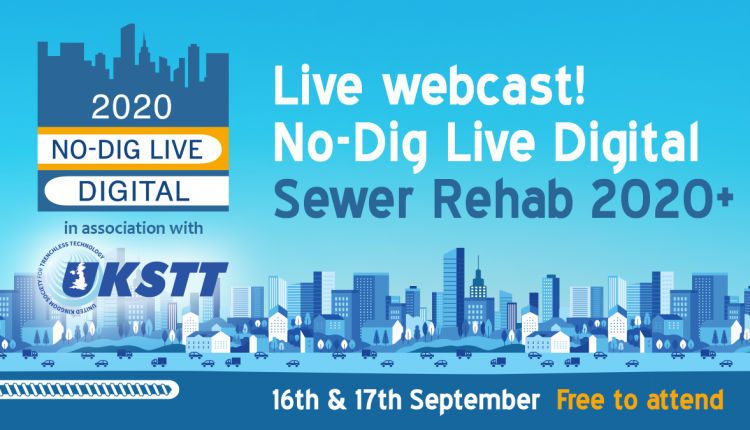 Announcing No-Dig Live Digital, a 2 day live webcast, produced in colloboration between the Sewer Rehab Contact Group (SRCG), the United Kingdom Society for Trenchless Technology (UKSTT) and Westrade Group.
Normally this September Westrade Group would be holding the three day No-Dig Live event in Peterborough, UK, however due to Covid-19 this event has been postponed until 23rd – 25th March 2021.
This online webinar is an alternative to the conference, for Water and Sewerage Companies (WaSCs) to communicate with the supply chain about their sewer rehabilitation programmes in their current regulatory period, and their needs (innovations). It will also be an opportunity to hear first-hand what impact measures to control the pandemic may have been having, and what challenges the supply chain might be able to help them with. It also builds on the model of the successful event at the 2018 No-Dig Live where Irish Water and Northern Ireland Water jointly presented their future programmes and needs.
Companies getting involved
The following companies will be presenting over the 2 day digital conference, which will be moderated throughout by Senior Research Fellow, IKT (Institute for Underground Infrastructure) Iain Naismith:
"With many WaSCs settling into their new asset management plans, but having to accommodate the ongoing consequences of the pandemic, and an emerging new joint innovation strategy to encourage collaboration between the UK water companies, this is a good time to be considering what is happening in the sewer rehabilitation sector." commented Iain.
Registration is free
Both days are completely free to attend, and each day is an open live webcast so you can stay online streaming throughout, or jump on to listen to your preferred presentation.
Links for registeration:
Day 1  – click here to register